Touch down Guwahati. And we were all set for an overlanding adventure. But alas, the weather wasn't with us. A rain shower greeted us as we exited the airport. Nonetheless, Evie's spirits weren't dampened as she was looking forward to a camping trip in her school break. We packed for all weather conditions, and brought some of our personal camping gear, so our luggage consisted of 2 trolley bags and 2 large backpacks. All this fit comfortably into the back of the Tata Xenon, with the backpacks going into the provided truck for protection from the rain.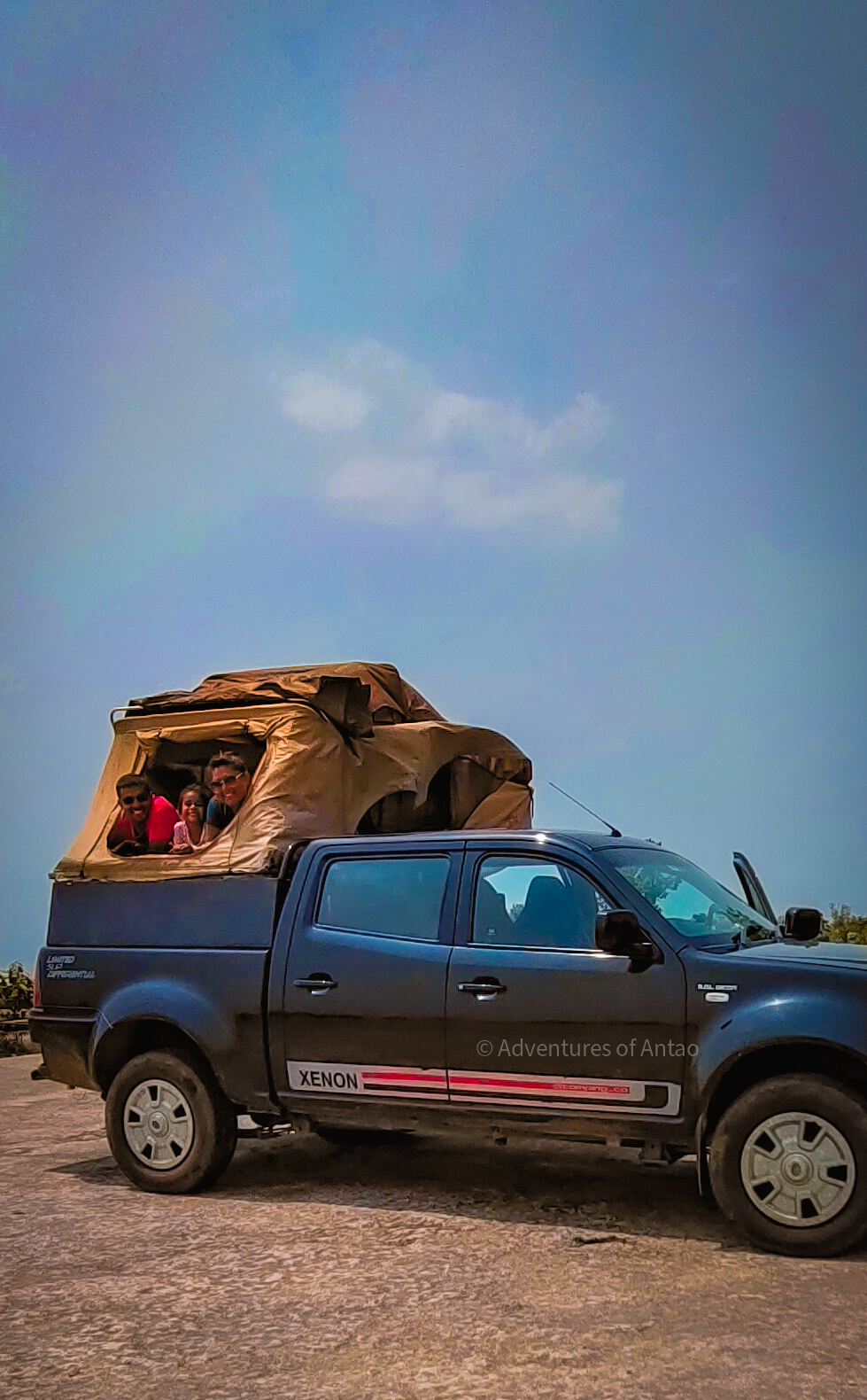 The first night had heavy rain pelting our tent which resulted in a sleepless night for us adults worried that water would seep into our tent. Evie, on the other hand, slept like a baby. All tucked in her sleeping bag, which we carry for our camping trips, and her furry buddies. When morning broke and the sky was still cloudy, we decided to move to a room as there were heavy rains predicted round the clock for the next 3 days. Luckily the campsites suggested by Camping Co also have room as a stay option which worked perfectly for us. On the fourth day, the weather eased up and we camped amongst the beautiful grounds in Sohra. Evie couldn't be happier. Thus, we flirted from one campsite to another enjoying all that the abode of clouds had to offer. From lush waterfalls to the greenest rolling hills. We got ourselves into a routine. Waking up with the sun and packing the tent. After a hearty breakfast which was mostly bread omelet and Maggi, we set out exploring the place or driving to the next campsite. We tried to reach the campsites by 5pm to give us ample time to set up camp before the sun went to sleep. Even though we reached after sunset on a couple of occasions, opening the roof tent in the fading light did not pose a problem.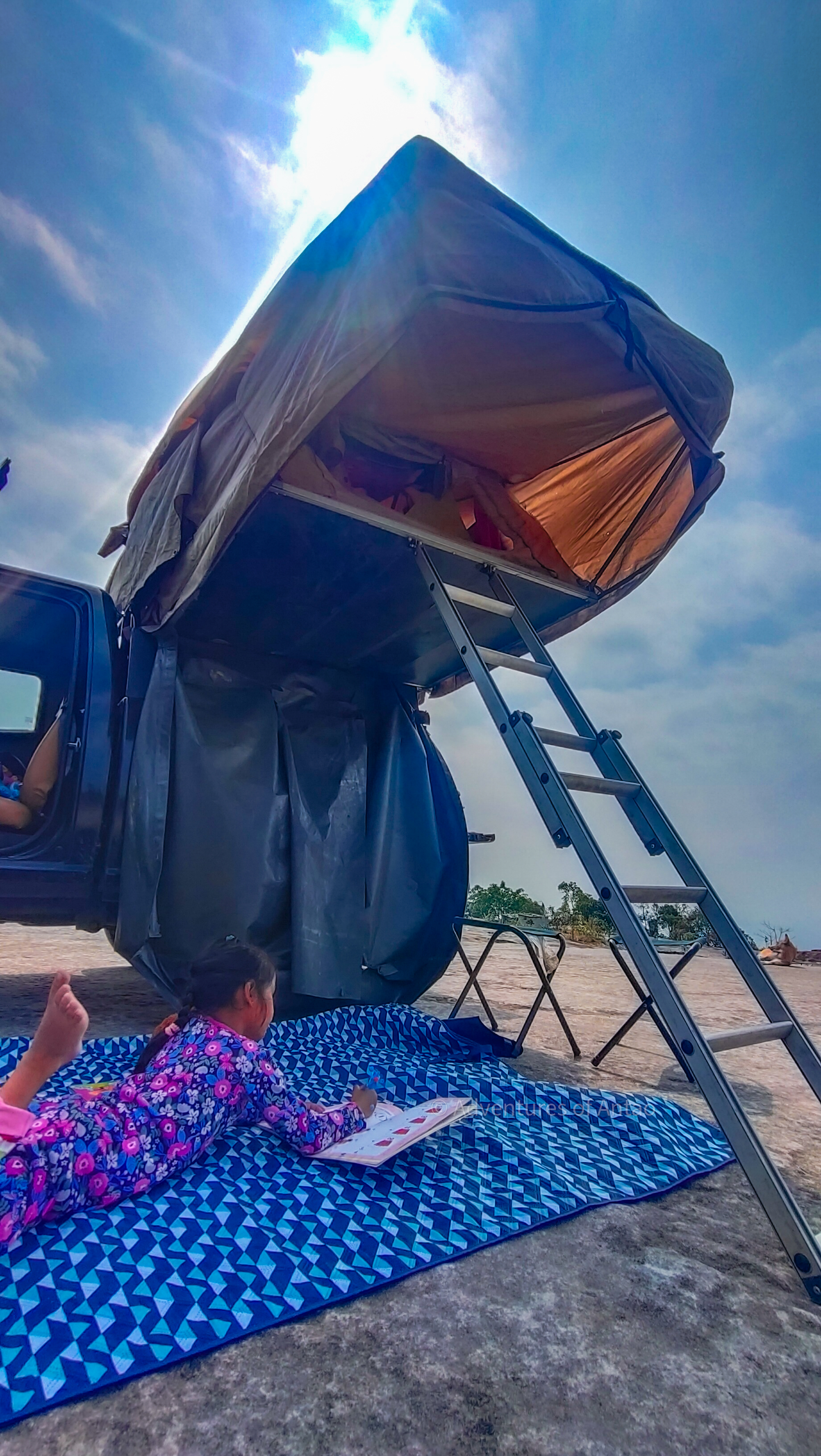 We involved Evie in setting up the camp as well. Her job was to unroll the sleeping bags, inflate the pillows (well, she tried) and hang the portable tent light. At times she insisted on even setting up the tent which, we must say, was child's play. Take off the rain cover, pull the ladder, and you're set! Then it was dinner, a bedtime story and zzzzzzzzz. Our wonderful host at most campsites would indulge us with an early dinner and even a hot shower. Small luxuries to turn camping into glamping. We planned our itinerary such that a strenuous day of trekking, river tracing, cave exploration was followed by a day of rest or drive. This gave a chance for Evie to reenergize and look forward to the next day of adventure. During the drive she ate, slept, and honed her photography skills. The flexibility of booking a campsite just the previous day gave us the chance to change an itinerary if needed. And yeah, we did deviate from our original itinerary n number of times. If we liked a campsite we just stayed on for an extra day. This trip was more about the camping experience then sightseeing. But when we did venture out to see the sights, Meghalaya didn't disappoint. We picnicked near waterfalls, had a snack break near the living root bridge, had a rewarding treat after completing the notorious Mawryngkhang trek (Bamboo trek), polished a plate of Jadoh with the locals, shopped at a night market and got an insights of village life, slurped a hot bowl of noodles after a cold swim during river tracing.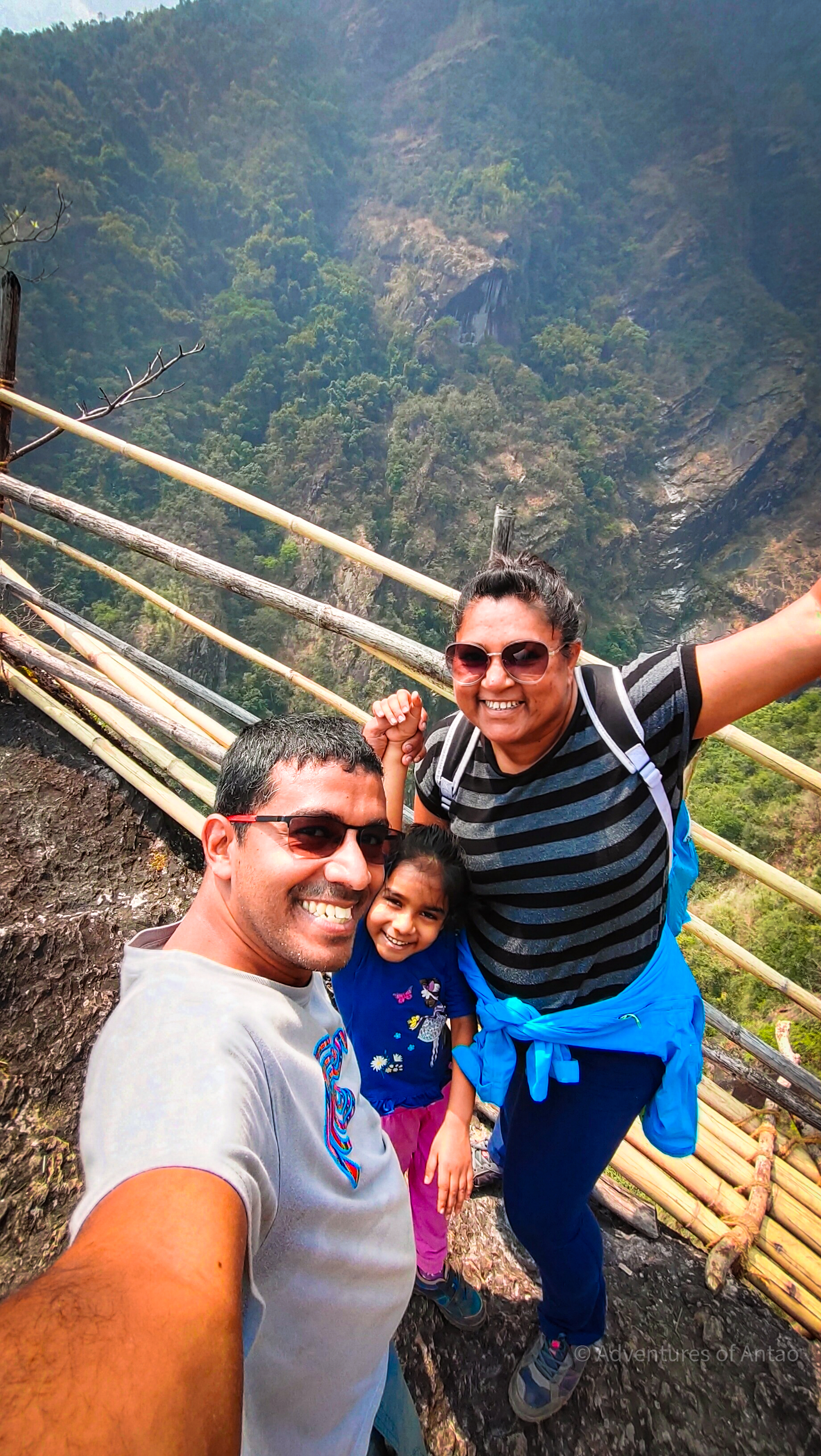 Our downtime at the campsite was spent with Evie solving her puzzles in her Maze book, swinging to her hearts content in the play area at some of the campsites. Most of all she loved befriending the four-legged visitor that paid a visit for food scrapes at our camp. She even named them Black Beauty, Merrylegs and Ginger (sounds familiar). At our second last campsite, our host LT set us up with some firewood, so dinner was wood smoked pasta cozying up to a bonfire. We ended our trip by the calm waters of Mawphanlur lake. Sharing some tips on what worked for us on our camping trip:
Safety and comfort first: We carried Evie's car seat with us to ensure she would be safe through all the bumps of the drive. We also got a blanket and a neck pillow in case she wanted to take a snooze in the backseat. A lovie and few of her furry friends to share the joys of the ride. And not to forget the countless snacks for every 'I'm hungry!'
Pit Stops along the way: This is important not only as a snack break but also to stretch our legs. We planned stops every 2 hours or so.
Pack smartly: As we would be literally living out of suitcases, we had to pack in such as a way that we could access things easily. We also packed for all weather conditions from rain and cold to heat. With a child in tow, we also packed all her meds in case of emergency and her favorite camping essentials like sleeping bag and pillow, headlamp, her cutlery, etc
We are the Antaos and this has been our overlanding experience in Meghalaya. Do check out more of our Meghalaya at adventures.of.antao
Instagram