If you have a soft spot for adventure than Overlanding is something you should have done at least once in your life. Imagine yourself sleeping a night under the stars far away from the sounds of the hectic cities. Wake up when the sun rises and pour yourself a hot cup of chai while enjoying the simple things in life. If you ask us, Meghalaya is one of the best places to go Overlanding and enjoy the ultimate freedom that comes with it. But this type of camping also requires a good preparation and responsibility towards the environment.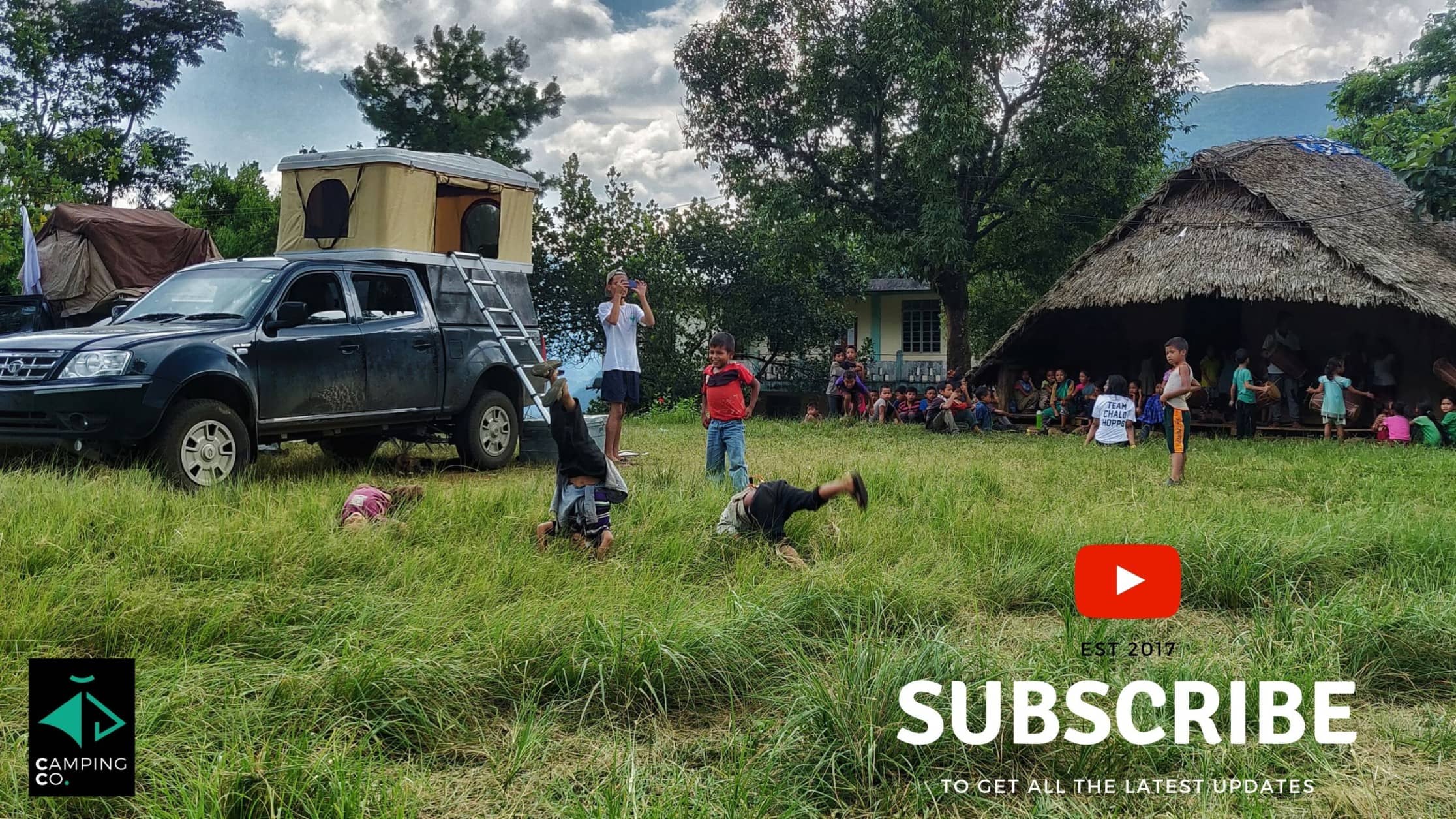 Preparation
Overlanding is an adventure, a full self-reliance experience which depends on the success of a good preparation. The outdoors isn't equipped with all the comforts of home, so make the effort to be organised and look after yourself.
Carry the necessities
Some basic necessities you should be carrying are food, water, stove, cooking supplies, camping gear (mattress, sleeping bag, torch), first aid kit and clothes according to the weather. Don't forget that Meghalaya is one of the wettest places in the world, so carry a rain jacket and a warm sweater as it can get chilly at night in the hills.
Research for a spot
Before you head off and start exploring the wild it might be helpful to think about possible camp locations, even if it just as a back-up. Although Meghalaya is less crowded than other parts of India, you still find villages and human activity all around the state. Use google satellite to find deserted roads and flat lands away from the villages. Make sure to check the internet and scroll www.camping-co.com & some Facebook groups as other overlanders and wild camp enthusiasts share their experiences online.
Plan your day
If you are a beginner in Overlanding finding the perfect spot may cost you some time, plan your day accordingly so you don't arrive too late or too early. You do want to set up your camp in daylight but if you set your camp up too early you may attract interested locals. The local tribes in Meghalaya are one of the most friendly and welcoming people you will find, but as they are not very used to Overlanding it may be a bit overwhelming if you were hoping for that rustic and secluded spot. Therefore in our experience approximately an hour before sunset is the best time to arrive. The sun sets as early as 4:30 during the winter time in the northeast, so better to start early than finish late!
Camping
Setting up your camp in a random place sounds very easy but don't be fooled. There are a few things to keep in mind before you settle yourself for a night under the stars.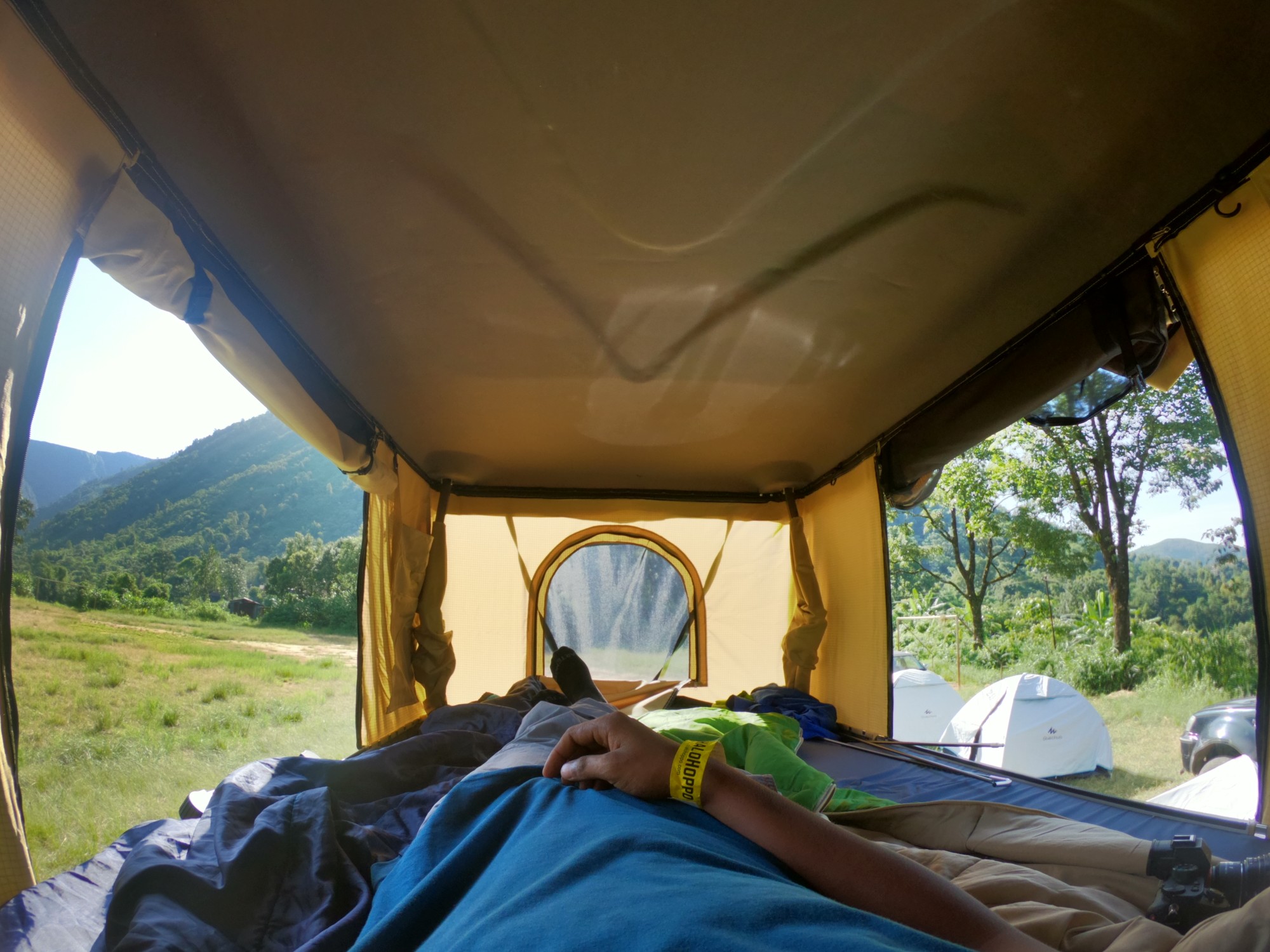 Animals and locals
While animals might seem your biggest fear, you yourself might be considered a nuisance. Therefore if you like to set up your camp near a village, house or on someone's land, make sure to ask the village head or landowner for permission before setting up your camp. It can be seen as trespassing and very disrespectful if you don't do this.
The perfect campsite
The perfect camp spot has a few requirements . In the first place it should be a flat area preferably on a solid surface with no chance of flooding. Find a camp spot that gives you shelter from sun and wind, check where the sun will rise and ask yourself if you like to catch the first sunrays or rather not. The wind will be shifting from time to time so don't pin on this but it is more comfortable if the back of the tent faces the wind side.
Be weatherproof
Always set up your camp all weather proof, bad weather can catch you unexpectedly with nothing for you to hide from the storm except your tent. Use all the poles, pegs and guy ropes given with it and check the manual if you are not sure about the set up.
The finishing touch
Once you are all settled it is time to ignite a fire, if you ask us one of the most enjoyable parts of camping. A bonfire is equal to an amazing camping experience but can be very dangerous if it goes out of control, you don't want to be accountable for starting a bushfire. Search for a spot on a safe distance, 15 to 20 feet from your camp and use a firepit. You can easily make one yourself by placing a few large rocks in a circle. Always keep some water and/or a shovel in handy to douse any runaway flames that jump outside the firepit. Never leave your fire unattended and put the fire out properly by pouring water until the fire is cold, a golden rule is that it should be cold enough to touch it.
Take care of our planet
If you are an adventurer at heart you must have heard from the saying "take memories and leave only footprints". Be as environmentally friendly as possible to keep our planet beautiful and alive for ourselves and our future generation.
Nature calls
Nature calls When you are Overlanding this means that you are the visitor and your behavior towards the nature and animals should reflect this. Although the saying goes the more the merrier this is not the case when you venture the great outdoors. Keeping your group small will not only result in a higher risk of seeing some wildlife but also protects the habitat and does less harm to the environment.
The leave no trace policy
There is no reason to leave anything behind you have brought with you, dispose all your trash by taking it back and recycle it. It might be attempting to take a reminder with you from your memorable trip but leave the nature the way it is. Do not carve your name in any tree and do not take any rocks, the best ways to take something home from your trip is by carrying a camera. The hundreds of pictures you will have in the end will always take you back to these amazing moments. By taking the above tips into account you make sure your camping trip will be both rememberable as well as environmentally responsible. It may sound like a lot to be considered when you go Overlanding but the best is to head out and experience it yourself. And if you don't feel like searching for your camp spot, try Camping Co's camp sites available all around Meghalaya and the rest of northeast.