India is one of the world's most exotic, fascinating and captivating travel destinations in the world. While the Taj Mahal, the forts and palaces of Rajasthan and the backwaters of Kerala are popular sights, very few travellers visit the remote, tribal lands of North East India. North East India is tucked away in between Bangladesh, Tibet, Bhutan and Myanmar and is a world away from the chaos of Delhi and other tourist clichés you might expect when you think of India. These diverse and beautiful, remote tribal lands are only just opening up to tourism and are home to some of the most intriguing tribal people, rare wildlife and stunning scenery in India. Why You Should Visit North East India The North East is still a relatively unexplored paradise for intrepid travellers. Its popularity is growing and the region is quickly becoming India's hottest new destination so if you want to witness this region so blissfully untouched by tourism (so far) then you'll have to visit soon!

1. Meet tribal people and learn about their unique way of life
Apatani Woman
Remote North East India has been cut off from the rest of the world for ages and so it's one of the rare places in the world where you can meet authentic tribal people who live a very different way of life even in this modern age. North East India is one of the most culturally diverse areas of the world. It is home to over 200 tribes including unique, fascinating tribes like the opium smoking, headhunter tribes in Nagaland and the facially tattooed, sun and moon worshipping Apatani tribe in Ziro Valley, Arunachal Pradesh. One of the best ways to experience the vibrant and unique cultures of North East India's intriguing tribal people is through one of the many amazing tribal festivals.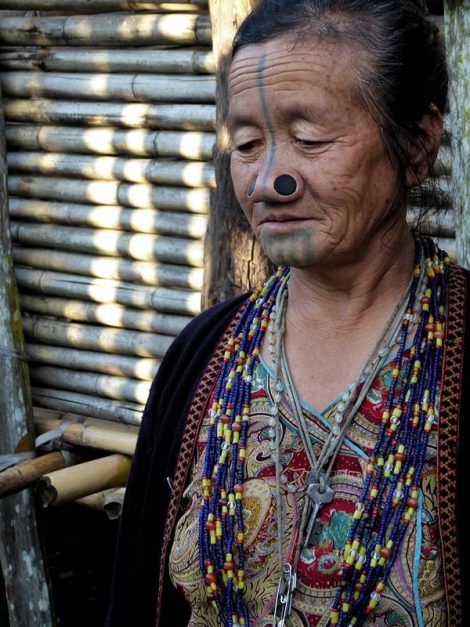 Headhunter man
Witnessing the riot of colour, music and dance and even some sacrifices and unique rituals of a traditional tribal festival in North East India is sure to be an unforgettable experience. For the conscious traveller, north-east India offers many eco-friendly destinations to choose from. There's Khonoma in Nagaland where the villagers banded together to stop unchecked deforestation by outsiders. Mawlynnong in Meghalaya was awarded the cleanest village in Asia and where all guesthouses are constructed of bamboo. The Apatani tribe of Ziro Valley in Arunachal Pradesh have developed their own unique sustainable methods of farming. Then there's the breathtaking Khangchendzonga National Park in Sikkim. If you believe in the concept of green travel, then this is an absolutely unmissable destination.

2. See rare and endangered wildlife
With over fifteen national parks, including Loktak – the world's only floating national park, and even more wildlife sanctuaries, North East India is home to a variety of fauna – be it birds, reptiles, or mammals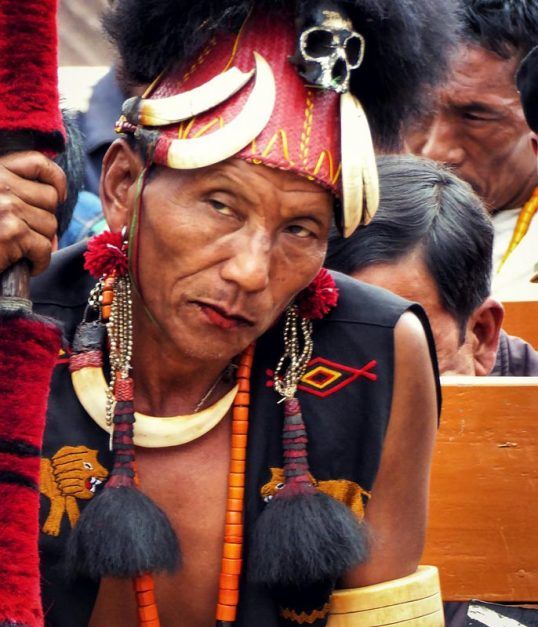 Because the region is so unspoilt and unexplored North East India is a refuge to many rare and endangered animals.The Sangai deer (also known as the dancing deer) and other antelopes, water buffaloes, elephants, the endangered red panda, Bengal tiger, gibbons, golden langur, and many more mammal species can be spotted in North East India There are many fantastic UNESCO listed national parks where animal lovers can take safaris and witness exotic animals in their natural habitat. Kaziranga National Park in Assam One of the most famous is Kaziranga National Park in Assam where close up sightings of engaged one horned rhinos are pretty much guaranteed (even the Duke and Duchess of Cambridge visited here on their India tour). Manas Wildife Sanctuary, also in Assam, is home to more endangered species than any other sanctuary in India. Or visit Nokrek National Park in Meghalaya to look out for red pandas, tigers, elephants, rare breeds of macaques and marbled cats.

3. Tibetan culture (without visiting Tibet)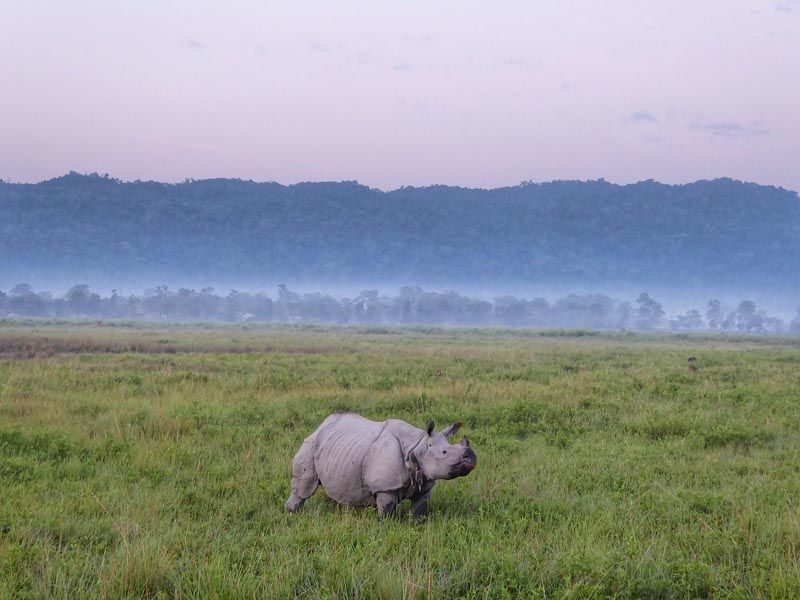 North East India is nestled up against the border of Tibet and parts of the mountainous state of Arunachal Pradesh actually used to be part of Tibet. Visit the remote Tawang region where colourful Tibetan prayer flags flutter over the peaceful valleys. You will experience the enchanting, serene and colourful Tibetan culture and religion carrying on peacefully in the historic monasteries, prayer wheels and stupas. Be sure to enjoy delicious and authentic Tibetan food like momos and thukpas.

4. Explore unspoiled nature and stunning scenery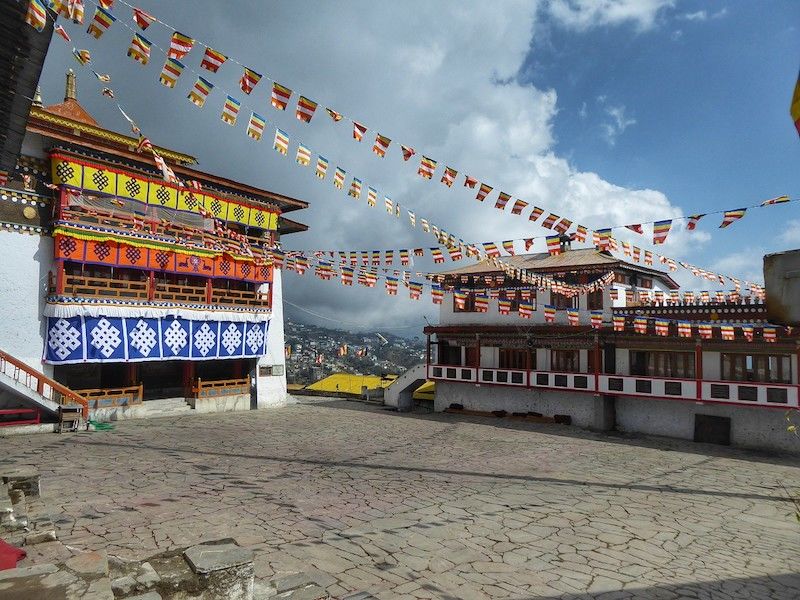 North East India is home to some of the most stunning, diverse and unspoilt scenery in India. From the snow capped peaks of the soaring Himalayan mountains, to the grassy plains of Assam and the steamy forests and majestic waterfalls of Meghalaya – North East India showcases unspoilt nature at its finest! There aren't many places in the world with blank spaces on the map. There aren't many places where people have hardly any idea that the modern world exists, where creatures have yet to be named and mountains yet to be climbed. SO are you ready to go on an adventure of a lifetime?
5. Find musical inspiration
North-east India is home to some of the best musicians in the country. However, most of them are very underrated. Western music, especially, is the source of inspiration for most people in the region. Shillong, the capital town of Meghalaya, is also known as the Rock Music Capital of India. Legendary musician Lou Majaw hails from the state of Meghalaya, and so does Soulmate, one of India's best blues bands. If you want to experience the brilliant music coming from north-east India, make sure to attend the Ziro Festival of Music in Arunachal Pradesh, which is a highly sought-after musical fixture in the country. There aren't many places in the world with blank spaces on the map. There aren't many places where people have hardly any idea that the modern world exists, where creatures have yet to be named and mountains yet to be climbed. But North East India is still totally off the beaten track. It's an amazing feeling to go somewhere hardly anyone else has gone but you'll need to go now before everyone else does! Let us also give you some valuable insights as to how to go about your travel planning to Northeast India.
North East India consists of 7 sister states – Assam, Meghalaya, Nagaland, Arunachal Pradesh, Manipur, Mizoram and Tripura.
The best way is to land in Guwahati which is the gateway of Northeast India and opt for a self drive or chauffeur driven from Camping Co. overlanding truck as most of the Northeast is accessible by road.
All have different cultures, tribes, languages, food and scenery that are just heaven for intrepid explorers!
Some states, like Assam and Meghalaya, have better infrastructure and are easier to travel to than others.
Carry ready to eat snacks if you are not up for a food adventure
Make sure to carry rainwear, mosquito repellent and comfortable shoes
States, like Arunachal Pradesh, require special permits.
Nagaland has very little infrastructure and it's like visiting a state which is still living in the last century
But North East India is an amazing and unique destination that's totally worth the extra effort, after all isn't that the meaning of 'off the beaten track!'